Segment your customer base with Zoho CRM: effective campaigns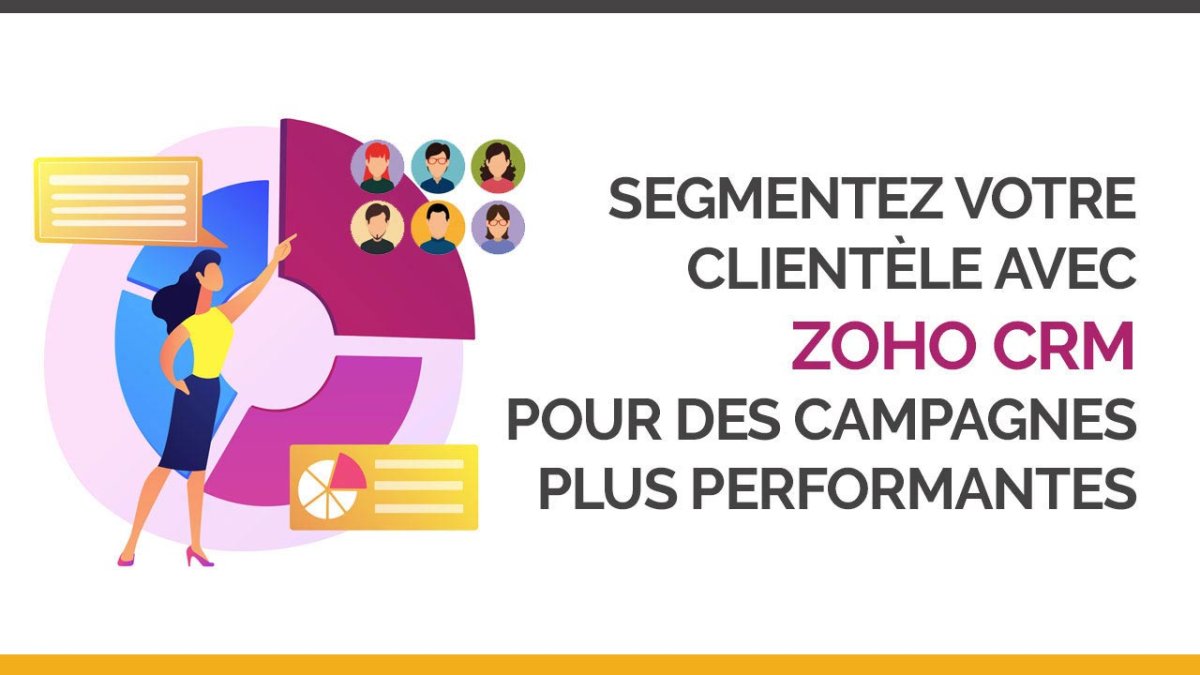 Segment your customer base with Zoho CRM
Customer segmentation is the process of categorizing a customer base according to common characteristics such as region, industry, product preferences, income, etc.
It's a powerful technique. It helps companies to better respond to customer needs by using data more effectively. If you can't segment your CRM data and create lists of contacts meeting specific criteria to facilitate your sales and marketing activities, then you're not getting the most out of it!
Segment your clientele by buying pattern
The best customer segmentation is based on multiple characteristics and parameters. You only take one factor into account. So you risk limiting your vision and misinterpreting signals.
It may be interesting to know:
How many times have customers bought from you?
When was their last purchase?
Are they expressing their interests again?
How often do they buy?
How many of them have only bought once?
Լes answers to these questions will help you guide customers to the next purchase. By analyzing customer behavior based on previous purchases, you can determine the best customer loyalty strategy.
RFM for post-purchase segmentation
RFM is the most commonly used metric for post-purchase segmentation. It evaluates customers according to recency, frequency and monetary value.
Recent – When was their last purchase?
Frequency – How often do they buy?
Monetary – How much did they spend?
RFM offers the possibility of segmenting customers into groups according to characteristics based on past purchases, and building loyalty through more personalized campaigns.
Segmentation in Zoho CRM
Select the appropriate fields representing recency, frequency and monetary value in your CRM. Assign a score from 1 to 5 for the different levels of the RFM metric. Based on the scores you have defined, the system calculates the RFM metric for the record (customer, contact or prospect). It then displays it in the record details page.
You can create different labels based on customers' RFM scores. This will also help other teams to understand where customers are in the sales cycle and take appropriate action. Each segment can have up to 8 labels, and for ease of understanding, Zoho CRM provides a set of predefined labels.
Don't miss out on this great opportunity offered by ZOHO CRM to grow your business by adding value. Segment your CRM data for more effective sales and marketing.
Would you like to customize your customer segmentation in Zoho CRM according to your own criteria?
We can help you with these settings!
Improve your sales and organization with digital technology
To take your digital transformation a step further
Order our ebook on AMAZON